Welcome to the official website of comedian, writer, and animal activist Elayne Boosler. Elayne started doing comedy in New York City in 1973, and has been on everything you have ever seen. So if you say to her, "Didn't I see you on..??" Yes. Yes, you did.
---
"Elayne Boosler – Timeless" Boxed Set Available Now
Order "Elayne Boosler – Timeless" on Amazon. Get "Party of One", "Broadway Baby", "Top Tomata", "Live Nude Girls", and new CD "The 50/50 Club".
Now stream any or all of the specials or cuts on Spotify, iTunes or Pandora.
And remember, always start your Amazon shopping at smile.amazon.com, choose Tails of Joy, Studio City, as your  chosen charity, bookmark it, and every time you shop, Amazon will donate a portion to us at NO cost to you. You'll be saving lives every time you shop.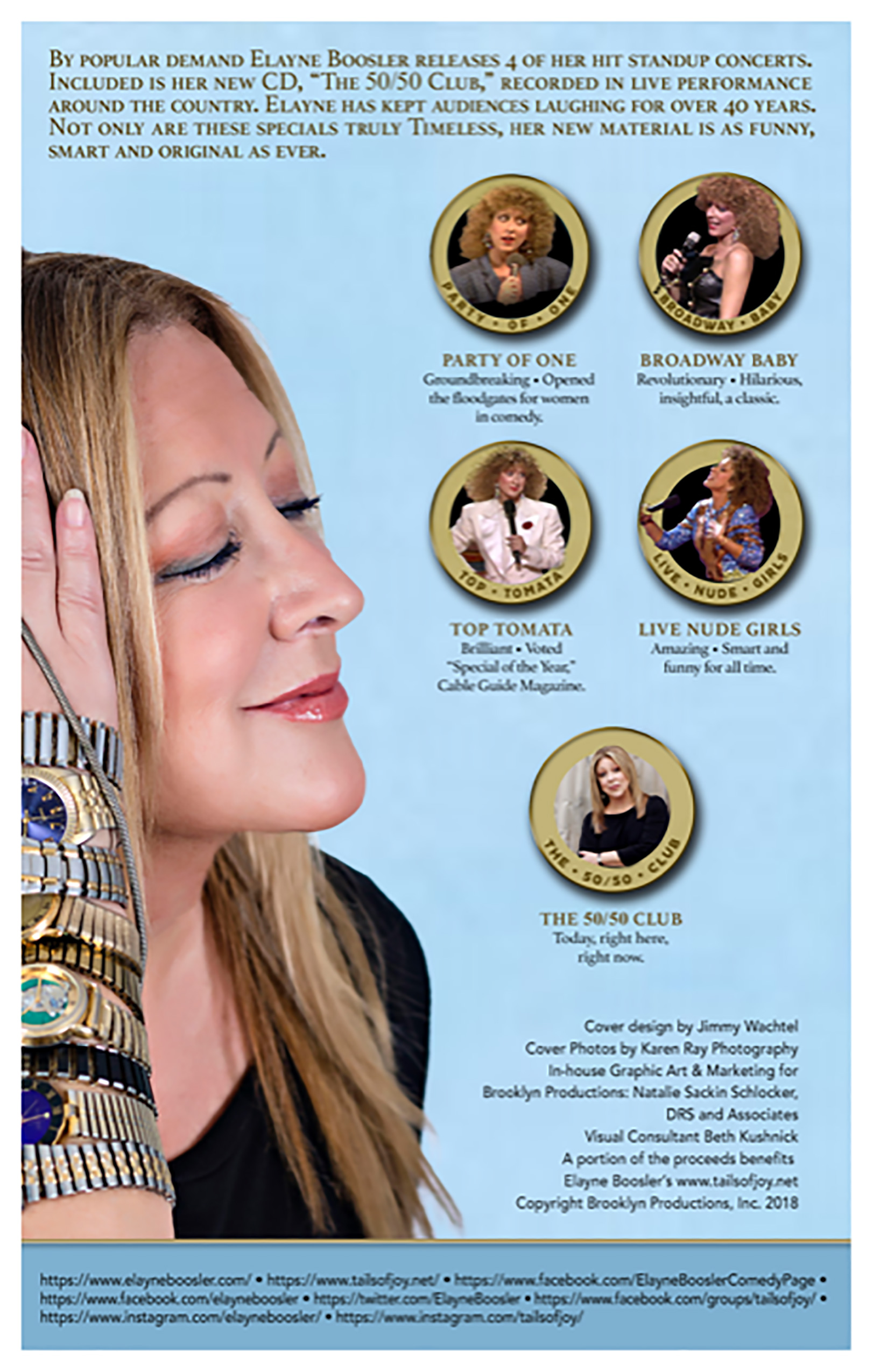 ---
Kewl!

Feb 14, 2017 Named one of Rolling Stone's "50 Best Stand-up Comics of All Time"
---

See Elayne featured weekly on the hit CNN series, The History of Comedy. Season 2  began Sunday, July 15th 2018. "This new CNN Original Series explores what makes us laugh, why, and how that's influenced our social and political landscape throughout history."
---
If you think you can have a better time anywhere on earth than being on The Tonight Show and hanging out with Jimmy, you can't. Getting ready for my next visit.
---
Animal Activist? Well, yes. This is what I do the other 23 hours of every day. I run my own nationwide non-profit animal rescue and advocacy organization, Elayne Boosler's "Tails of Joy".
Check us out, and be sure to shop. We have great stuff and it all goes 100% to saving lives. Enjoy our latest rescue press: Dogster Hero!
---
We're always under construction. Of course, I'm from New York. We're using the same guys who are doing La Guardia Airport, so please check back in eighteen years, and the site will be almost ready. Thank you. We used dogs, cats and elephants to build Elayne's animal rescue website, "Tails of Joy", so of course that was done on time. You can always trust animals.